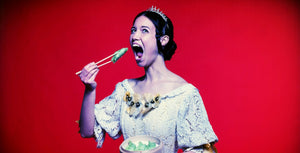 A Westerner's Guide to the Opium Wars
Tabitha was born in Australia.
This event has now passed.
Her dad wasn't, but that's just the end of the story. A Westerner's Guide to the Opium Wars takes audiences as far back in Tabitha's family tree as she knows: to the early 19th century and the First Opium War.

Made by a team of second-generation Australians, this quirky new play is for anyone who has been asked "But where are you really from?" often enough to start asking themselves the same question.
Catch 2018 KXT Step Up alumnus Tabitha Woo's extraordinarily personal show before it tours to the Blue Room in Perth and Tasmania.
Directed by | Presented by Thirty Five Square
Performed by Tabitha Woo
Lockout policy: Latecomers are not permitted to enter during the performance and there are no refunds/exchanges with regards to latecomers.
Find out more about the Kings Cross Theatre