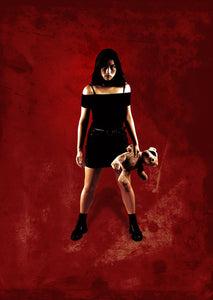 Alice in Slasherland
"Gleefully silly! Action-packed! A sly, self-referential comedy!"
- The New York Times
This event has now passed.
Lewis Diaz is in love with his best friend, which would be fine if he didn't accidentally resurrect the soul of a brutally slain girl named Alice and unwittingly open a literal gateway to hell. Now, with every imaginable kind of demon, monster, and killer ravaging his small town, it's up to Lewis and his newly undead companion to protect his classmates from becoming freshly slaughtered carcasses. 

With the help of Alice's trash-talking demonic teddy bear, Lewis races to find a way to close the rift before the devil himself shows up and totally ruins their senior prom.

"Easily the most fun you can have Off-Off Broadway without being arrested for possession or assault, Alice In Slasherland reminds you that well-orchestrated fights, limber actors, trash talk and several lightning-fast costume changes add up to theatrical brilliance." ★★★★ - Time Out New York
Running Time: 2 hours including interval
The Risky Stuff: This production contains mild coarse language, gore and adult themes
Lockout Policy: Latecomers can not be permitted and reentry to the theatre is not possible during the performance. 
Presented by Last One Standing Theatre Company & Red Line Productions