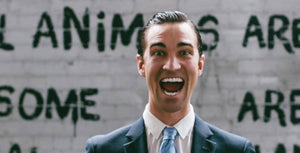 Animal Farm
"All animals are equal but some are more equal than others."
This event has now passed.
Don't miss this blistering new one-man version of George Orwell's political classic.
Revolution is coming to Manor Farm. Under the guidance of some rebellious pigs, a group of farm animals unite to drive out their cruel human oppressors and build utopia. But the swine are not as united as they appear and their division gives rise to a terrifying new system of power and repression. Written in the 1940s as a response to the rise of authoritarian governments around the world, Animal Farm is a searing examination of extremist rule.
A scintillating take on one of the greatest stories of English literature and a sublime, unadorned piece of theatrical storytelling, Animal Farm will see Dale March (Australian Tour of the National Theatre's Warhorse) inhabit upwards of 20 characters, from the revolutionary pigs to the stoic draft horse and the tyrannical Mr Jones.
Running Time: 70 Minutes

Presented by State Theatre Company South Australia at Riverside Theatres