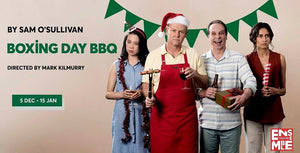 Boxing Day BBQ
It's Sydney. It's Christmas. And it's stinking hot. Even though she's unable to be there, Mum is insisting the family gather for a festive celebration in honour of Dad – he was the BBQ king!
This event has passed. 
Their adult children, wine snob Peter and cynical Connie, reluctantly get the clan together. In raising a toast to their Dad's memory, old grudges and family tensions sizzle to the surface. Surely they'll be able to stop grilling each other for one day – it's Christmas after all.
With a scorching ensemble under the direction of Mark Kilmurry, don't miss Sam O' Sullivan's blistering comedy about the ridiculous holiday season in all its glory.
Running time: 90mins (no interval)
Find out more about Boxing Day BBQ
Find out more about Ensemble Theatre