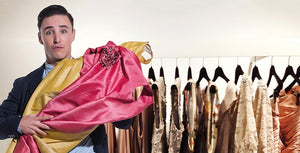 Buyer and Cellar
A one-man tour-de-force, Jonathan Tolins' award-winning comedy about hero worship and celebrity is poignant, classy and full of laughs.
This event has now passed.
Barbra Streisand has a shopping mall in the basement of her mansion so she can shop to her heart's content, without leaving the comfortable security of her home. That is a true story. The tale of Alex getting a job there and the unlikely friendship that blossoms between the pair may be fiction, but it's not impossible.

It should be a dream job, working for one of Hollywood's most revered stars. But as Alex settles into his new role, he finds himself torn between the mesmerising glamour of his eccentric employer, and the toll his brush with Babs takes on his personal relationships.

By arrangement with Hal Leonard Australia Pty Ltd, on behalf of Dramatists Play service, Inc.
Find out more about Ensemble Theatre