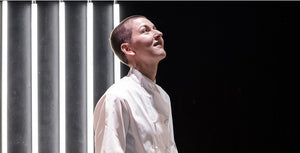 Chef
This critically acclaimed production returns to KXT in 2023.
This event has passed. 
I cook here, create here,
make here be as much of life as I can
because outside of this
I'm not safe,
I don't know the way.
A searing one-woman show about ambition, justice, freedom of choice, and of course, food. As Chef plans the perfect menu she reveals the events and relationships that took her from a Michelin starred restaurant to a prison kitchen. Chef turns a life shaped by violence and loss into sublime dishes that reflect her philosophy of simplicity and respect. The Australian premiere of Sabrina Mahfouz's award-winning play, played to critical acclaim and a sold out season in 2022, and returns to KXT in January 2023. 
★★★★ Audrey Journal   |    ★★★★ Arts Hub
Running time: 1 hour, no interval
Content warning: References to domestic violence and suicide
Find out more about Chef. Pesented by Virginia Plain in association with Kings Cross Theatre.