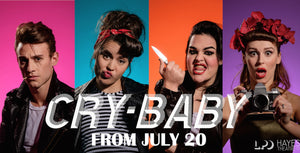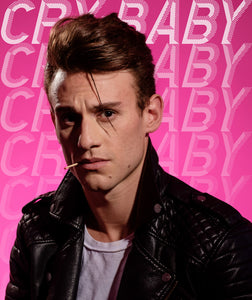 Cry Baby
It's 1954.
This event has now passed.
Everyone likes Ike, nobody likes communism and Baltimore is a topsy-turvy moral meritocracy. At the centre of this world are star-crossed lovers Wade "Cry-Baby" Walker – the coolest boy in Baltimore – and his rich but square object of desire, Allison. Cry-Baby is a bad boy with a great cause – truth, justice and the pursuit of rock and roll – so, fueled by hormones and the new rhythms of popular music, Allison turns her back on her King-of-the-Squares boyfriend Baldwin to become a 'Drape', and Cry-Baby's girl. The stage is set for a pitched battle between the squeaky-clean, close-harmony Squares and the rock-and-roll juvenile delinquent Drapes.
Based on the cult-classic 1990 John Waters film, Cry-Baby boasts an hilariously absurd book from the writer of Hairspray, and an insanely catchy score featuring song titles like "I'm Infected" and "Girl, Can I Kiss You With Tongue?". All these elements combine to create a unique, strange and totally endearing musical.
Book by Mark O'Donnell and Thomas Meehan, Songs by Adam Schlesinger and David Javerbaum
Based on the Universal Pictures film written and directed by John Waters

Presented by LPD in association with Hayes Theatre Co