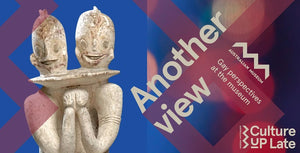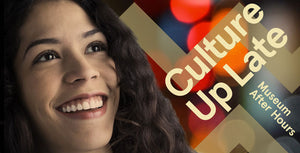 Culture Up Late: Another View
Presented as part of Sydney Mardi Gras, LGBTQI artists explore new museum perspectives through performance, tours and happenings.
This event has now passed.
Culture Up Late opens the museum after hours with a few extras including VR experiences, short and sweet tours, hands-on workshops, live music and performances. Enjoy a mid-week diversion with a bit of a difference! It's also the perfect opportunity to enjoy the latest exhibitions, during its quieter moments.
Live Music: Lady Sings It Better
Fiona Pearson and Libby Wood have spent 6 years touring the country as part ofLady Sings it Better, a dry-witted, fiercely feminist cabaret directed by queer theatremaker, Maeve Marsden. Each a skilled performer in their own right, Libby performs in critically acclaimed cabaret,Mother's Ruin: A Cabaret about Gin, and Fiona has toured internationally with duo, Kelfi & Fikel, and recently launched her new one-woman show, Meat Loaf: In The Raw. Lady Sings it Better have been described as "comic cabaret gold" (The Scotsman) and "sassy, passionate, and downright hilarious" (ArtsHub).

 

6:45pm, 8pm
Live Art with Sam Leighton-Dore
Illustrator (and award-winning filmmaker and writer) Sam Leighton-Dore paints visitors (including you!) live in the Australian Museum. Come by to see Sam in action, and be integrated into his cheeky artwork.
Spot Tour: Mating in the Wild
Laugh out loud while you learn something new on this "Mating in the Wild" tour of Wild Planet, every half-hour. Experience personal favourites and queer hidden stories in these short, irreverent and hilarious tours.
Sydney Gaymers with Holly Golightly


Plug in and play the surrealist adventure game TRANSZONE or the action-packed PRINCESS AND DRAGONS, hosted by Sydney Gaymers and Holly Golightly. A community of geeks, gamers and allies, Sydney Gaymers are showcasing two of the most visually unique and appealing games around. Watch others play or get in on the action!

Dust Off Your Peacock – taxidermy, materials and conservation
Join Sheldon Teare, 

Natural Sciences 

Conservator at the Australian Museum for a crash course in the conservation of some of our most flamboyant specimens, like a 2.5m-long peacock, Rainbow lorikeets who are known to have same-sex parents, and a small mammal with detached testicles.
ANSTO Science Round Up
Dr Alice Williamson from The University of Sydney chairs this lively review of science news featuring interviews with ANSTO and AM scientists. 7pm
Conservatorium Compositions
Short, original musical compositions by Sydney Conservatorium of Music students, inspired by the Australian Museum's exhibitions.
Alexis Weaver: 5:40pm, 6:40pm, 7:40pm, 8:40pm
Josh Winestock: 5:20pm, 7:20pm
Henry Hulme: 6:20pm, 8:20pm
Nicholas Theodoou: 5:45pm, 6:45pm, 7:45pm, 8:45pm
Adorned - Indigenous jewellery-making workshop
Put emu feathers and other traditional materials into your bespoke creations, with Charlie Williams.
Virtual Reality: Chasing Coral
Coral bleaching is one of the most visible effects of climate change. See the changes to Australia's Great Barrier Reef with your own eyes in this VR experience: immerse yourself in the underwater seascape of the Great Barrier Reef before it disappears.
Magnificent Minerals with Mel Murray
How long does it take to form a diamond? Why are rubies red? What habits to crystals have and can they be broken? Discover the pedigree of perfection with Earth scientist Melissa Murray as she delves into the mysteries of magnificent minerals from one of the top 10 minerals collections in the world.
Frog ID info booth
Learn about Australia's diverse frog poulation

the AM's biggest citizen science project to date at our interactive booth

.
Mammoths: Giants of the Ice Age
Tickets include free access to the entire museum, including temporary exhibitionMammoths - Giant of the Ice Age
Times: 5:00pm - 9:00pm
Culture Up Late runs Wednesday nights January 24 to March 14. 
Find out more about the Australian Museum.