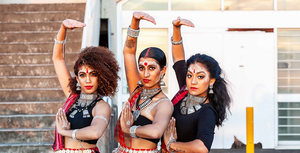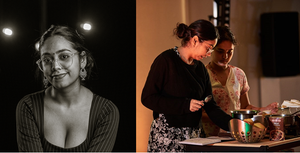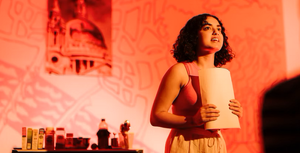 Experience Maa Ki Rasoi
Join Playwave, Purple Tape Productions and KXT for an exciting day out!
This event has passed.
Only $20 gets you a ticket to Maa Ki Rasoi - My Mother's Kitchen and a deliciously fun multi-sensory workshop from the phenomenal Bindi Bosses, before enjoying a selection of the foods that are essential to the stories of माँ की रसोई (Maa Ki Rasoi - My Mother's Kitchen) with the writer and director Pratha Nagpal before the show. 
Woven through the recipes passed down in writer/director Pratha Nagpal's family, Maa Ki Rasoi is a theatrical pondering on one question: How does Pratha carry on her mother's legacy?
Unpacking the systemic placement of domesticity in South Asian cultures and the fear of defining your cultural legacy as an immigrant child - माँ की रसोई is a love letter to a mother, from a child who cannot cook.
Don't miss out on this fantastic cultural experience curated just for Playwavers! 
What you get: 
- Ticket to see Maa Ki Rasoi 
- Multi-sensory workshop with Bindi Bosses
- Pre-show Q&A and nibbles with the creative team 
- Playwave giftbag
Schedule:
3:00PM - movement workshop
4:00PM - food and chats with the artist 
5:00PM - Maa Ki Rasoi show

Other details: 
Performance run time: 60 minutes (no interval)
 

Find out more about Maa Ki Rasoi. Presented by Playwave, Purple Tape Productions and KXT. 
Playwave Experiences are made possible through the support from the City of Sydney.