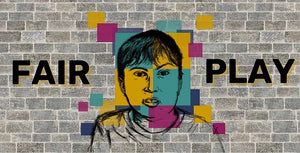 Fair Play
Deciding what's right and just can be hard.
This event has passed. 
Luckily, scientists have invented the Fair-O-Meter, a handy device that takes all the troublesome talking, thinking and empathizing out of deciding what's fair! But not everyone is happy about this technological triumph. With an election looming, the powerful are anxious and the people are starting to ask questions. 

In a world where we all have different opinions, can we live together peacefully if fairness is an absolute?
Join the Ryde Youth Theatre for Fair Play to find out.
Running time: 1 hour
Directed by Rowan Bate and James Hartley.
Find out more about Fair Play. Presented by Shopfront Arts Co-op.