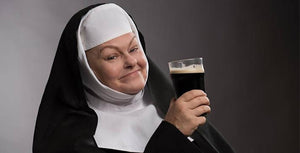 Folk
Sister Winnie's no ordinary nun.
This event has now passed.
She's feisty, irreverent and has a soft spot for a pint of Guinness. Her front room is a haven for socially awkward Stephen, who shares her passion for folk music. Their world is suddenly shattered – literally – when wayward and rebellious Kayleigh throws a brick through the window, bringing chaos into their lives. Each of them is keeping a secret and as confidences are shared, ever-optimistic Winnie concocts a harebrained scheme to help her friends unleash their creative talent on the world.
From the writer of THE KITCHEN SINK, Tom Wells' funny and moving play brings together a classic trio of misfits with heart, humour and song. Don't miss the Australian premiere of this surprising and poignant tale.
By Tom Wells
The Risky Stuff: This performance contains strong language
Find out more about Ensemble Theatre