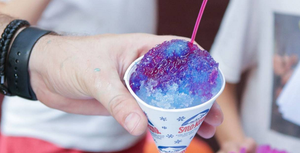 GENEXT 여름
Join us on Sunday 4 December for the next instalment of 

GENEXT

 – a youth-only event imagined, developed and delivered by the 

MCA Youth Committee.

This event has now passed.

Summer is coming to the MCA! 여름 (yeoreum) is the term for summer in Korean. Young people are welcomed into the Museum for a night of art making, K-Pop, workshops, performance and live music. MCA's latest exhibitions – Do Ho Suh, a major survey of the work of South Korean artist Do Ho Suh, and Primavera 2022: Young Australian Artists, the Museum's annual exhibition of young Australian artists – will be open to experience on the night. Featuring performances by AnSo, Yura, Shopfront Arts Co-op and more. 

 

Date: Sunday 4 December 

Time: 6 - 9PM

Location: MCA  - Museum of Contemporary Art 

--- 

Access support

The MCA welcomes all visitors and is committed to making its programs and services accessible to everyone. Would you like to request additional support? We can provide specific support for family members with physical, intellectual, learning and sensory access requirements. Find out more about our Access support program.

Drug- & alcohol-free

GENEXT is a strictly drug-free, alcohol-free and vape-free event. MCA security conduct bag checks, and we recommend that you bring ID. Entry to the event is at the discretion of MCA staff. Anyone under the influence of drugs and/or alcohol will not be permitted entry to the event in the interests of the safety and well-being of others.

Event FAQ


How do I get to GENEXT?
GENEXT takes place at the Museum of Contemporary Art Australia (MCA), 140 George Street, Tallawoladah, The Rocks. The entry for the Museum is on the Circular Quay side of the building.
You can view more about how to get to the MCA on our visual story.


What should I bring or not bring with me to GENEXT?
Bring phones, friends, small bags (eg. tote bags, hand-bags or bum bags), mask (optional), your favourite outfit and an open mind,
Don't bring backpacks (you will have to cloak any large bags and cloakroom space is limited), food or drinks, alcohol or non-prescription drugs (they will be confiscated), cigarettes or vapes.
Can parents or anyone over the age of 18 years attend GENEXT?
This event is for people aged 18 and under. If you require to attend with a support person over the age of 18, please contact us before the event by emailing GENEXT@mca.com.au. Proof of age will be required on entry for ages 16+.

What supervision will there be?
GENEXT is imagined and delivered by the MCA Youth Committee, a group of young volunteers who work closely with the Museum. All activities, however, will be supervised by MCA staff. Security will also be on site to assist with emergencies. MCA staff will refer to the emergency contact information provided when you booked your ticket in the event of an emergency or incident.

Are there pass outs?
No. If you leave the event for any reason, you will not be able to return to the event. There is so much to do inside you won't want to leave anyway! We have two outdoor areas within the event on Level 2 and Level 4 if you need fresh air.

Will there be food and drinks available?
Yes. On entry you will receive a coupon to exchange for one free snack box containing a light meal. All food is nut free. Gluten free, Halal, vegan and vegetarian options are also available. Snack boxes along with a variety of free non-alcoholic beverages will be available from the MCA Cafe on Level 4 from 6.30pm.

What is it going to be like at GENEXT?
Read our visual story for information on how to access the Museum during GENEXT, and to help you plan your visit in advance. This step-by-step guide is designed for people with access requirements.
Find out more about GENEXT. Presented by the MCA.