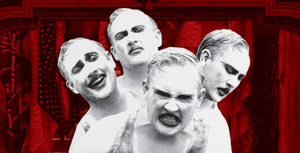 Herringbone
Lost somewhere between purgatory and therapy, George Herringbone wades nightly through the memories of his macabre childhood.
This event has now passed. 
In the deep south during the great depression, 11 year old George is possessed by the spirit of The Frog – a former vaudevillian entertainer murdered by and now out for revenge against his one-time double-act partner, The Chicken. Part Southern Gothic Horror, Part Vaudeville Comedy, George recounts his bizarre tale with the help of an eccentric cavalcade of characters including his mother, father, grandmother, mentor, tormentor, and a woman in love with the man within the boy – they just don't know there is only one in the cast...
Directed by Jay James-Moody & Michael Ralph
Featuring Jay James-Moody
Presented by SQUABBALOGIC and bAKEHOUSE Theatre Company at the Kings Cross Theatre
Lockout policy: Latecomers are not permitted to enter during the performance and there are no refunds/exchanges with regards to latecomers.
KXT Meal Deal: Book a ticket to the Sunday matinee and get a 10% discount on food at the Kings Cross Hotel when you show your ticket!
Find out more about the Kings Cross Theatre