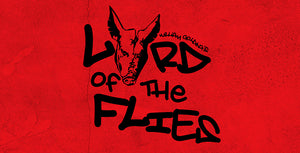 Lord of the Flies – With Exclusive Pre-Show Event
Join Playwave and Sydney Theatre Company for an exciting night out. Just $25 gets you a ticket to this hit play and access to an exclusive pre-show event featuring an in-conversation with Lord of the Flies Lighting Designer, Alexander Berlage, and Composer and Sound Designer, James Brown.
This event has now passed. Missed out? Make sure you sign up for your (free!) Playwave membership so you get first notice of upcoming events!  And, if you are excited to see this play, there are still great seats available and Under 30s prices through Sydney Theatre Company here.
It's a fun chance to meet other young people who love theatre, grab some pre-show drinks and hear about this unsettling, timeless play in a fresh way.
The conversation will be MC'd by Jess Arthur, STC's Resident Director, and you'll get a unique chance to ask Alexander and James everything you've always to know about the play.   
Then, head into the theatre to see a brilliant, diverse ensemble cast including Mia Wasikowska take on Lord of the Flies.
About the play
When a plane crash leaves a group of schoolboys marooned on a desert island, it isn't long before rivalries and violence rise to the surface.
William Golding's Lord of the Flies is a 20th century masterpiece. Written in 1954, it was his first novel, heavily influenced by his experience of the Second World War. In it, he created an enduring modern myth, an examination of humanity's intrinsic capacity for self-destruction.
An exciting ensemble of adult actors, including Australian screen star Mia Wasikowska (Tim Burton's Alice in Wonderland) will bring Golding's island of boys to life. Lord of the Flies director (and STC's Artistic Director) Kip Williams' staging will make us look on this play with new eyes.
Event: 6:00pm-7:15pm
Play running time: 7:30pm-9:15pm (1hr 45mins, no interval)
The Risky Stuff: Adult themes, violence, strong language, theatrical blood, theatrical haze and smoke, strobe lighting and complete theatrical blackouts. Subject to change.