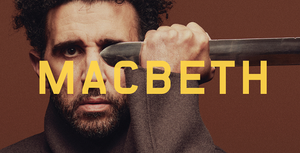 Macbeth
Shakespeare's most haunting thriller follows the story of Macbeth, a Scottish general, famed for his exploits on the battlefield.
This event has passed. 
Following a bloody battle, Macbeth and his comrade Banquo are met by three Weird Sisters who prophesy Macbeth will one day be king.
Unable to shake the thought, Macbeth tells his wife, Lady Macbeth. Driven by an insatiable hunger for power, posterity and certainty, they commit a murder and set in motion the inevitable unravelling of their sanity. With blood on their hands, they face the dire consequences of their despicable actions.
A terrifying portrayal of moral collapse, Peter Evans' Macbeth, with Logie award-winning Hazem Shammas (The Twelve, Safe Harbour) as Macbeth and Jessica Tovey (The Miser, The Merchant of Venice) as Lady Macbeth, will take you on an intense and compelling journey into the dark heart of humanity.
★ ★ ★ ★ Time Out
★ ★ ★ ★ Artshub
★ ★ ★ ★  Australian Book Review
★ ★ ★ ★ Sydney Arts Guide
Running time: 2 hours 20 minutes (including 20 min interval) 
Find out more about Macbeth. Presented by Bell Shakespeare.