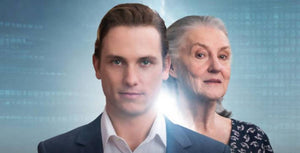 Marjorie Prime
What would you choose to remember? What would you choose to forget? If you could rebuild the past and bring a loved one back to some kind of life, would you do it? In the not too distant future a service has been introduced to resurrect loved ones in holographic form. Eighty-five year old Marjorie has brought back her husband. But when he was 30. When they first fell in love…
This event has now passed.
Intimate in setting yet ambitious in scope, MARJORIE PRIME, like Spike Jonze's film HER or sci-fi series BLACK MIRROR, delves into a world of artificial intelligence and robotics and virtual assistants, but through the lens of the everyday, the everywoman and her family. It explores the benefits and joys that technology could bring but also the possible heartache. It raises poignant questions about the impression we leave on others, the details we remember, the stories we re-craft and the love we're lucky to experience.
Written by Jordan Harrison (writer on the Netflix hit ORANGE IS THE NEW BLACK) and nominated for a Pulitzer Prize, this acclaimed Off-Broadway sensation arrives at Ensemble Theatre with a stellar cast led by award-winning director Mitchell Butel. Don't miss this thought-provoking and unique family drama.
"A thoughtful, elegant and quietly unsettling drama … [that] keeps developing in your head like a photographic negative, long after you've seen it." New York Times
Find out more about Ensemble Theatre