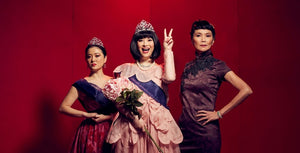 Miss Peony
Playwave tickets available until Wednesday 5 July. Book your tickets today to secure your Playwave member price! 
This event has passed.
Lily's grandmother was a beauty queen back in Hong Kong. She doesn't care that times have changed, that Lily lives in a new country and a new century. She sees a granddaughter caught between worlds. So Poh Poh pushes Lily into entering the highly competitive Miss Peony, and no matter how hard Lily tries to wriggle out of it, her grandma won't take no for an answer.
And to make matters worse, she's a ghost.
Glitzy and madcap, Miss Peony is a bold new comedy about our good old need for connection – to family, the past, the future, each other.
And for the first time ever we're offering a show in three languages: as in real life, these characters switch between English, Cantonese and Mandarin, so the show is surtitled in all three.
Running time: 2 hours 20 minutes (incl. 20 minute interval) 
Find out more about Miss Peony. Presented by Belvoir St Theatre.