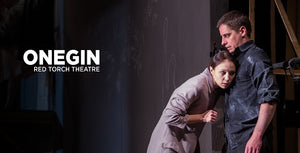 Onegin: Red Torch Theatre
ONEGIN 
Timofey Kulyabin's Golden Mask Award winning ONEGIN removes all expectations of Pushkin's novel in verse and places you in today's world, immersed in the inner thoughts, hopes, despairs, passions and disappointments that drift in, through and around the 4 central figures, Onegin, Tatiana, Olga and Lensky.
The work is a hypnotic, quiet love story that perfectly conveys the attitude of the great poet and how very much his masterwork still resonates with our 21st century reality.
Director: Timofey Kuyabin
Features: Daria Yemelyanova, Pavel Polyakov, Sergey Bogomolov
Watch the special with your public library card or university login here.
Presented by Red Torch Theatre and Kanopy