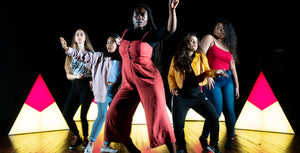 Playlist
PYT | Fairfield brings you a powerful new dance theatre work exploring the state of feminisms through pop culture and music.
This event has now passed.
PLAYLIST is Beyoncé meets the women's marches meets Australian Idol. It's full of suburban dreams and pop star fantasies. It's a pop culture call to action, about the critical issues of our times.
Who is going to shape the future for women in Australia? Living in the #MeToo world, PLAYLIST explores the experiences, ideas and power of young women. It promises to be an adrenaline rush of a show, bringing together the diverse skills of the performers, street dance forms and pop songs to offer an unconventional dance theatre experience. Under the direction of PYT Fairfield Artistic Director Karen Therese, the multi art-form work is choreographed by acclaimed dancer and choreographer Larissa McGowan, with set design by award-winning visual artist Zanny Begg and sound by Gail Priest and Berlin-based sound architect Jasmine Guffond.
Running time: 70 minutes (approx) 
The Risky Stuff: Use of strobe
Performers: Ebube Uba, May Tran, Tasha O'Brien, Mara Knezevic and Neda Taha.
Image: Alex Wisser
Find out more about PYT Fairfield