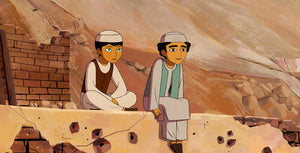 The Breadwinner
An Oscar-nominated animation about an 11-year-old Afghan girl, Parvana, who must pose as a boy to support her family when her father is unjustly jailed.
This event has now passed.
Adapted from the popular novel by Deborah Ellis, this portrait of life in Afghanistan under Taliban rule is the powerful tale of a young girl who faces adversity with creativity and courage. Animated by a team of over 200 artists, it was produced by Ireland's Cartoon Salon, the studio behind Oscar nominees The Secret of Kells (SFF 2009) and Song of the Sea (SFF 2015). The Breadwinner is an unflinching indictment of a culture that oppresses women and girls. It is also an appeal for human rights and the power of imagination against tyranny.
More imaginative than Coco, more soulful than Moana, more everything than Despicable Me 3, Nora Twomey's The Breadwinner cements Ireland's Cartoon Saloon as an animation powerhouse. – David Ehrlich, Indiewire 
In its alternating of Parvana's day-to-day struggle with the tale she tells herself, the movie doesn't promote bromides about stories and storytelling transcending reality. Rather, it demonstrates that the way imagination refracts reality can provide not only solace but also real-world strategy. – Glenn Kenny, New York Times
Running time: 93 minutes
Language: English
Country: Ireland, Canada, Luxembourg
Directed by Nora Twomey

Find out more about Sydney Film Festival