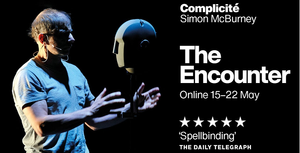 The Encounter Online
Watch The Encounter Online 

This event has now passed
Inspired by the book Amazon Beaming by Petru Popescu.
In 1969 Loren McIntyre, a National Geographic photographer found himself lost among the people of the remote Javari Valley in Brazil. It was an encounter that was to change his life, bringing the limits of human consciousness into startling focus. 
Simon McBurney traces McIntyre's journey into the depths of the Amazon rainforest, incorporating innovative technology into his solo performance to build a shifting world of sound. 
The Encounter will be available to watch online on our website, on YouTube and Twitter from Friday 15 May to Friday 22 May (BST).
There will be a live, online discussion with Simon McBurney and guests at 7.30pm BST on Wednesday 20 May. Register for the discussion.
Presented by Complicite