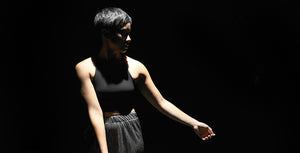 Voices & Visions
A celebration of young artists
This event has now passed.
Voices and Visions is a youth run festival run by Shopfront Arts Co-op that brings work from the most exciting emerging artists and performers in the St. George region to the heart of the Sydney CBD.
It is an event curated by young people and emerging artists from Shopfront Arts Co-op showcasing the art that is now and that will lead us into the future. Through a mix of performance, theatre, visual arts, video installations, to the curated sounds in the bar; you will be immersed in what Shopfront Arts is – a place for young people and emerging artists to have a voice. There is something for everyone!
Gallery open Tuesday–Saturday 11am–6pm | Sunday 11am–4pm.
Performances (14+)
Friday 19th January | 7pm
Saturday 20th January | 7pm
Art Making Workshops (All ages, FREE)
Saturday 20th January | 12–4pm
Sunday 21st January | 12–4pm
Find out more about Shopfront Arts Co-op and 107 Projects