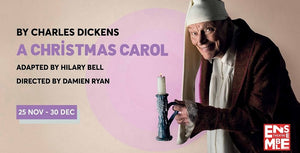 A Christmas Carol
Audience favourite John Bell is penny-pinching Ebenezer Scrooge in this delightful reimagining of Charles Dickens' classic tale. Christmas spirits are conjured up with music, pantomime and other surprises in this magical family event not to be missed!
This event has passed. 
Gather your mistletoe, hang your stocking and join the Crummles family in their home as they bring to life this classic festive tale of villainy, injustice, transformation and redemption. This Victorian troupe will immerse you in the magic of Dickens' ghostly world as they conjure up spirits with music, pantomime and other thrilling surprises.
Visited by three strangers on the eve before Christmas, Ebenezer Scrooge sees his inexcusable penny-pinching ways laid bare: from brushes with the past, to enlightenment in the present and dreaded visions of the future. Will Scrooge repent and throw turkey to the wind, or will he hold on to his purse strings, forever doomed like his poor deceased friend Marley?
Playing the misanthropic Scrooge, John Bell (DIPLOMACY) is joined by a magnificent ensemble cast in this delightful adaptation by Hilary Bell. A joyous family event not to be missed!
Running time: 80 mins (no interval)
Find out more about A Christmas Carol
 Find out more about Ensemble Theatre