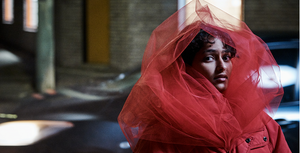 ArtsLab: DRIFTERS @ The Joan
ArtsLab: Drifters is a festival of new work from Western Sydney's most exciting emerging artists.
This event has passed.
Experimenting in theatre and performance art, blending dance, history, experience, music and youth for a vibrant festival at The Joan, Penrith.

2023 ArtsLab WNW Residents: Adam Yoon, Anna Krywyj Moore, Divya Lotlicker, Irelish Barker
About the works
Sensations of Maintenance by Adam Yoon
Sensations of Maintenance is a devised theatre work exploring the living process of continuity and change in our lives. What happens when we learn to unthread, listen and reveal what quietly maintains us and our relations? When given the choice, can we learn to let go and re-thread new ways of relating to what has come before?  Through fragments and threads of sound, memory and movement the piece seeks to take apart and play with the frames we set up for ourselves and those that have been setup for us by others.
Presented in the Allan Mullins Studio
---

Red Soup by Anna Krywyj Moore
'And I don't know what home is anymore, if not a feeling. This terrible, longing feeling'.
In an exciting blend of performance poetry and theatre, Red Soup tells the story of two women and two invasions of Ukraine; Oma is escaping Germany's invasion of Ukraine in 1941, and Jade is a serial home renovator, arriving at her next project. 
Where is home when you've been running from it all your life?
Presented in the Allan Mullins Studio
---

CURBSQUATTERS by Irelish Barker 
CURBSQUATTERS is a fresh new work written and directed by Irelish Barker. A somewhat auto-biographical story, CURBSQUATTERS explores the trials and tribulations of clubbing culture amongst young people. It is a collection of conversations and moments, set on the street outside of a popular nightclub. Join this group of bold characters they navigate relationships, arguments and trepidation; as they discuss their thoughts and share their experiences regarding love, lust, regret, and harassment. 
Presented in the Allan Mullins Studio
---
'One self over the Crimson Nest' by Divya Lotliker
In this living installation, Divya explores a space that represents her childhood bedroom, a space that was a refuge from the world and a world in itself.
One Self over the Crimson Nest touches on the surreal gap between reality and the unknown, a gap in which every version of our self exists. Over the course of the season, expect this space to transform, as the walls begin to carry the memories and emotions from years past.
Presented in the Borland Foyer
---

Find out more about Artslab: Drifters. Presented by Shopfront Arts Co-op, Q Theatre  and 107 Projects Redfern.