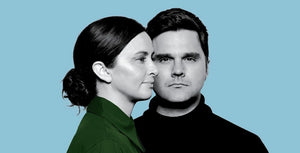 Benefactors
David and Jane are a happy and prosperous couple. He's an idealistic architect and she's an anthropologist who always stands with him. Their neighbours Colin and Sheila are by comparison struggling. 
This event has passed.
Colin's glory-days are over and Sheila is subservient and unfocused.
David feels his new architectural dream, the redevelopment of an inner-city housing project, will be the answer to future home building. However as Sheila settles into her neighbours' way of life, Colin starts to oppose David's bright new view of the future. Can struggling Colin become an unlikely hero of the people? Will Jane throw Sheila out? Or will the tower blocks collapse before the project is finished?
Writer Michael Frayn, creator of NOISES OFF, explores what it is to be human in a statistically driven world, in this chillingly funny comedy set in the 1970s.
Running time: 2hrs 20mins (including interval)
Find out more about Benefactors. Presented by Ensemble Theatre.