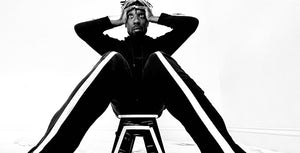 BlackLux: Perspectives in timelapse
An improv jam with a dance, a video and a stills artist using black and white visual contrast to explore object/Space
This event has passed.
Presented as part of Sydney Fringe 2022
BlackLux is a continuation on an on going research called Sankofa- Moving Architecture
Sankofa is an African word from the Akan tribe in Ghana. The literal translation of the word and the mythical bird symbol is "it is not taboo to fetch what is at risk of being left behind" It symbolizes the Akan people's quest for knowledge among the Akan with the implication that the quest is based on critical examination and intelligent and patient investigation.
With Sankofa at the core of exploration, Lucky Lartey will visit and revisit his traditional culture to inform the learning within and outcomes of this creative development, which in turn will move his practice forward into a new interdisciplinary territory. By blending contemporary dance language and traditional West African Dance practice together to explore the dichotomy between contemporary and tradition, drawing out shape, form, and storytelling while capturing this exploration of aesthetic. Cinema is calibrated to a white body.
With a team of diverse bodies, Lartey will explore the unspoken landscape of capturing different bodies and skin tones sharing space in stills and moving images. Lartey will experiment with background colours and chroma keys to learn how to create a resonance between light and dark skin tones to clearly articulate all moving bodies in photography and videography.
Running time: 1 hour 
Find out more about BlackLux: Perspectives in timelapse and the Sydney Fringe Festival