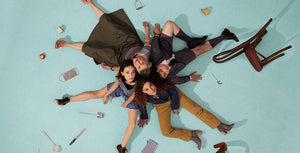 Blessed Union
Playwave tickets available until Wednesday 15 February. Book your tickets today to secure your Playwave member price! 

This event has passed. 
Join us for a special Gen B event on Friday 17 February at 7:00PM for Blessed Union. Belvoir's Gen B is an event for young people and is your chance to rub shoulders with other young arts enthusiasts, meet young theatre professionals, enjoy a free glass of handpicked wine (must be over 18) or an alcohol-free beverage and hear from someone from the show, all before taking your seats.
Ruth and Judith have been together for a long time. Long enough to have seen Australia change, for better and for worse. They have two bright and enquiring kids and a manageable mortgage in the Inner West. With love and hard work, they made the political personal and built a family of which they're fiercely proud. They re-wrote the rules, and their life together is a progressive success story. Why should breaking up be any different?
But even the loftiest ideals can come undone when pesky human emotion gets involved.
A fine new play from the wicked mind of Maeve Marsden, Blessed Union is for anyone who's looked at their life and wondered if there might be a better way to live it.
Find out more about Blessed Union. Presented by Belvoir St Theatre.