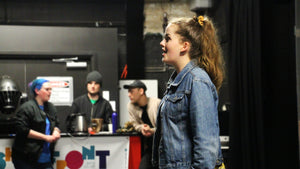 Coming Out On Broadway
Join us for a work-in-progress showing of our new musical 'Coming Out On Broadway'!
This event has now passed
Presented as part of Sydney Fringe
New Aussie musical 'Coming Out on Broadway' is a celebration of self love! Gens just moved to Sydney and finds herself swept up in her outgoing cousin Jack's performance club. When Gen discovers the club meets and performs at The Jewellery Box, a LGBT+ bar, she suddenly finds herself confronting her identity and her already strained relationship with her older brother, Harry. Join Gen, Mel, Jack, Jules, and Angus as they go on a journey of self actualisation, love, and discovering the importance of the family we choose.
Running Time: 60 minutes
Presenter: Moontan Productions
Origin: NSW