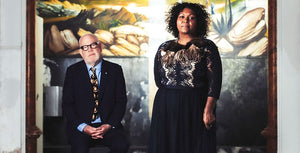 Emma Donovan & Paul Grabowsky
The voice of 
Emma Donovan
 carries deep currents within it. 
This event has passed. 
The voice of Emma Donovan carries deep currents within it. With family from both sides of the Australian continent, her many musical influences reflect her early experiences singing country music, as well as the rich legacy of soul which she famously inhabits so powerfully.
In The Old Rugged Cross Donovan explores another side of those early wellsprings: the gospel and hymns she grew up with in communities. Some of these songs – like the title track, 'I'll Fly Away' and 'Will The Circle Be Unbroken' will be familiar to lovers of the country gospel made famous by the likes of Johnny Cash, the Carter Family, and Elvis Presley. Emma will also perform songs by her grandfather Micko Donovan, and deliver a memorable tribute to Aretha Franklin, 'Amazing Grace'.
For The Old Rugged Cross, Emma joins forces with celebrated pianist, composer, arranger and conductor Paul Grabowsky, plus a powerful collection of Sydney's finest jazz musicians. This stellar collection of talent pays tribute to a rich musical legacy in arrangements given the inimitable Grabowsky treatment, a loving nod to grand traditions, to the domestic and the divine, and a homage to the great Emma Donovan herself.
Running time: 75 minutes 
Find out more about Emma Donovan & Paul Grabowsky. Presented by the City Recital Hall.