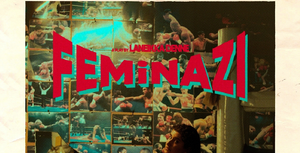 FEMINAZI's Queer Teens + Queer Parents Night
Playwave has $15 tickets up for grabs to Feminazi @ 25A's Queer Teen and Queer Parent Night presented by Wear It Purple and Rainbow Families as part of Belvoir's Sydney World Pride Program. 
This event has passed.
The night begins with a 6:45pm performance of FEMINAZI followed by a Q&A on "Intergenerational queerness: queer things I wish I could talk about more" with Claudia Bailey, Laneikka Denne and many more. 
When Zan, a self-proclaimed "FEMINAZI" sets out to kill every man in the world, they undergo an identity crisis to understand the constructs of gender and ingrained homophobia within our queer world.
Iconic and darkly funny af, FEMINAZI is a part digital part theatre performance about queer guilt, inherent misogyny and homophobia within self.
Running time: 75 minutes (no interval)

Content warning: This is an event recommended for audiences 15+ due to sexual references, swearing, queerphobia and mature content. 
Find out more about FEMINAZI. Presented by Belvoir St Theatre 25A as part of Sydney WorldPride 2023.