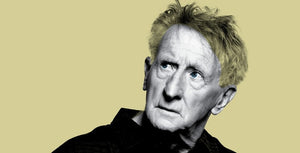 Mr Bailey's Minder
Leo has been ravaged by years of alcohol abuse, self-loathing and indulgent misbehaviour, and now needs round-the-clock care. 
This event has passed.
Enter Therese, fresh out of prison and down to her last option, who takes up the challenge as Leo's carer. Therese is determined to succeed – even if it means going head-to-head with Mr. Bailey.
Debra Oswald paints a poignant and funny portrait of what it takes to forgive and to let go. Bristling with sharp humour and beautiful complexities, MR BAILEY'S MINDER is a bold reminder that underneath the brittle veneer, there are rich layers of human experience to unearth and discover.
John Gaden returns to the Ensemble stage. In 2018 he was alongside John Bell in the Ensemble production of DIPLOMACY, in 2023 John plays Leo Bailey, a national treasure and one of Australia's greatest artists in MR. BAILEY'S MINDER.
Running time: 2hrs 20mins (including interval)
Content warning: Strong language 
Find out more about Mr Bailey's Minder. Presented by Ensemble Theatre.