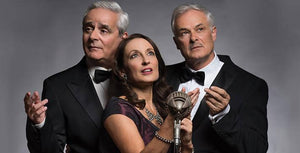 Murder on the Wireless
Adjust the dial, tune in for an evening of suspense and intrigue and witness the world's greatest detectives at their sleuthing best.
This event has now passed.
Incomparable duo Holmes and Watson team up to avert disaster at the hands of THE SOLITARY CYCLIST, while Divorced Detectives Ridley Jones and Teresa Scott are embroiled in a mad train chase to thwart a criminal mastermind in THE DEAD(LY) WIVES CLUB.
Set in a 1950s studio in the heyday of the radio play, marvel as atmospheric sound effects are created before your very eyes from galloping horses' hooves to distant thunder… and a menacing squeaky bicycle.
Hold on tight as MURDER ON THE WIRELESS transports you through time and space and into the magic, mayhem and delicious comedy of the radio drama.
By Arthur Conan Doyle and Mark Kilmurry
Find out more about Ensemble Theatre