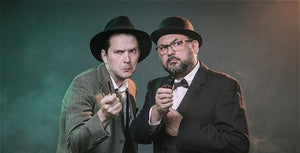 Murder Village: An Improvised Whodunnit
It's Agatha Christie, improvised! Following multiple sell-out seasons in Melbourne and Brisbane, Murder Village: An Improvised Whodunnit plays Sydney for the very first time.
This event has passed.
Presented as part of Sydney Fringe 2022
Immerse yourself in the cozy world of a 1950s Agatha Christie novel as the country's funniest improvisers craft eccentric characters and perplexing mysteries from your suggestions. Any of the village's suspicious denizens could be dispatched at any moment, and any of them could be the murderer. It's your secret ballot votes that determine who lives, who dies, and who will be unmasked as the culprit.
In Murder Village, the local police inspector may be incompetent but thankfully there is always an amateur sleuth on hand to sort the red herrings from the tell-tale clues. See if you can solve the crime first… whether you see one show or all of them, no chapter of this critically acclaimed show is the same!
Running time: 1 hour
Find out more about Murder Village: An Improvised Whodunnit and the Sydney Fringe Festival