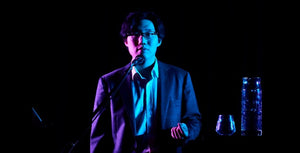 Of Stars and Streetlights
A one-man theatrical spoken-word poetry performance exploring nature, suburbia, and the mundane beauty that surrounds us. The story of one man's journey with poetry, and all the lessons he learned along the way. 
ALBERT LIN is a spoken-word poet, musician, general jack-of-all-trades, and person with a day job. His work focuses mostly on love, wonder and joy, while also exploring his life and emotions. Albert recently completed a 6-month emerging artist residency with Shopfront, culminating in a one-man theatrical poetry work performed over a two week season. He performed in the Poetry Sydney Vessels of Love initiative with the City of Sydney, 2021, and contributed 65 spoken poems and 4 written poems to the 2019 Dis/location exhibit at Monash University. Albert has written a poem every day since February 2017.
Cast & Creatives: 
Creator & Performer: Albert Lin
Dramaturg & Outside Eye: Natalie Rose
Producer: Chloe Warren
Running time: 1 hour
Content Warning: This performance contains coarse language and adult themes.