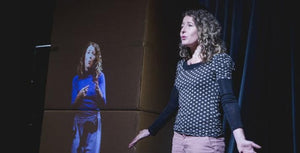 Personal
"It was only when Jodee was five years old and lost at Kmart that she realised her whole family were Deaf."
This event has now passed.
Part performance, part multimedia and live art, Jodee Mundy's ground-breaking solo performance explores her personal experience as the only hearing person in a Deaf family.
Portrayed through the eyes of a child, Jodee does not see any 'disability'; only the love and protection of her family. Despite this, she often witnessed a bittersweet ignorance from many towards her family.
Innovatively presented in the form of two languages, Jodee simultaneously translates herself using English and Auslan through the use of a virtual interpreter and captioning.
A deeply touching story, Personal explores dis/ability and how we perceive one another. It ultimately breaks down barriers and creates a greater understanding of signed and spoken language by highlighting how humans can communicate in multiple ways.
Running time: 60 minutes
Please note: This production is accessible to Deaf and hearing impaired, as well as hearing audiences. It contains some adult themes and strong language.