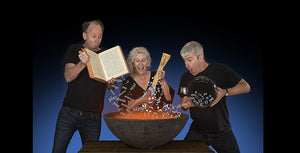 Stir-fried Science
Michele Conyngham, Patrick Trumper and Alison Carlson are your hosts for "Stir-fried Science'', a cornucopia of science, sketch comedy, songs and even a smidgin of philosophy.
This event has passed.
Presented as part of Sydney Fringe 2022
After a year of avoiding Covid-laced sneezes, coughs and associated respiratory droplets, Dramatis Scientificae are back! Following successful seasons in Canberra and Melbourne, Michele Conyngham, Alison Carlson and Patrick Trumper are your hosts for Stir-fried Science, a cornucopia of science, comedy, music and even a smidgin of philosophy.
Are black holes newsworthy? Should menus tell the unvarnished truth? Would you order "Dead leg of cow, brutally slaughtered and tossed in a sirop de cassis" at a PC cafe? Should scientists come down from their ivory tower and break the fourth wall?
Sketch comedy, songs and scientific research sautéed in a nerdy cermedy.
"Michele Conyngham, Phil Dooley and Patrick Trumper add a health lashing of comedy to the [scientific] mix," says Alex First, from itellyouwhatithink.com, of DramSci's Melbourne season last month.
So, if science is your bag, if you like a good laugh, come and see a show about science, full of variety.
Running time: 1 hour
Find out more about Stir-fried Science and the Sydney Fringe Festival