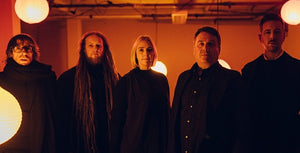 The Chills
Dunedin's finest; NZ indie greats; torchbearers of the legendary Flying Nun sound; The Chills reign triumphant, after 40 tumultuous years.
This event has passed. 
Helmed by the enigmatic Martin Phillipps, creator of such indie-pop wonders as 'Heavenly Pop Hit', 'Pink Frost' and 'I Love My Leather Jacket', The Chills are in a buoyant new phase of creative vigour and consistently brilliant showmanship that has wowed fans the world over. Recent documentary The Chills: The Triumph and Tragedy portrayed Martin's inspirational journey; facing mortality, overcoming his demons, holding on to his incandescent musical vision. This is pure pop for the new normal, from one of the living greats.
Formed in 1980, The Chills gained deserved acclaim for their early singles including Pink Frost, I Love My Leather Jacket and Wet Blanket, released by legendary New Zealand indie label Flying Nun.
The song writing skills, vision and determination of front-man Martin Phillipps provides continuity in The Chills across the decades, through a series of line-up changes and tragedies, many international tours, and several label changes. Martin's perseverance is inspirational and his ability to maintain a hold on his vision despite life's obstacles has enabled him to grow and add depth to his already great song writing. The Chills have a large and loyal cult following around the world built on the strength of their recording and live shows in over 40 countries - including being only the third band from the West to play in East Germany in 1987. There have also been numerous festival appearances including Glastonbury (1987)  Primavera (2016) and SXSW (2019).
Running time: 3 hours (including interval)
Find out more about Switched On: The Chills. Presented by City Recital Hall.