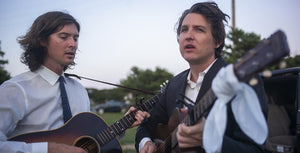 The Milk Carton Kids
Grammy-nominated duo The Milk Carton Kids bring their delicious harmonies and intricate musicianship to City Recital Hall. Strap in for an evening of musical majesty and hilarious action.
This event has passed. 
Founded in 2011, The Milk Carton Kids swiftly emerged as a major force in the American folk tradition, blending ethereal harmonies and intricate musicianship with a uniquely powerful brand of contemporary songcraft.
2013's debut The Ash & Clay proved their US breakthrough, earning The Milk Carton Kids their first Grammy Award nomination for Best Folk Album. A second Grammy nomination for Best American Roots Performance followed in 2015 for the track The City of Our Lady from the band's acclaimed third studio album, Monterey, and 2018's All the Things That I Did and All the Things That I Didn't Do was nominated for Best Engineered Album, Non-Classical.
The band recently debuted the album tracks When You're Gone and Running on Sweet Smile, their first new music since their acclaimed 2019 album The Only Ones.
Find out more about The Milk Carton Kids. Presented by City Recital Hall.