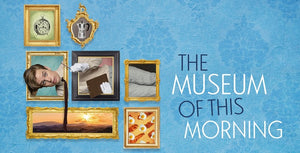 The Museum of This Morning
Join champion improvisor and real-life museum curator Jim Fishwick for a once-in-a-lifetime evening of storytelling, borrowing your mornings and weaving them together into a gallery exhibition for the ages.
This event has passed.
Presented as part of Sydney Fringe 2022
Part one-man show, part art project, The Museum of This Morning curates and celebrates the audience's own experiences before noon on the day of the show. These are combined into an onstage exhibition through a collaborative storytelling experience, making each performance totally unique.
The show delights in the details of things that could only have happened today, finds wonder in the mundane, and unites the audience in the magic of things that could only happen during the show.
Running time: 1 hour 
Find out more about The Museum of This Morning and the Sydney Fringe Festival