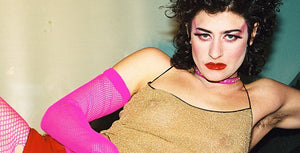 The Teaches of Peaches
Feminist icon and pop provocateur, 
Peaches
 performs her seminal electroclash album 
The Teaches of Peaches
 in full to celebrate its 20th anniversary, turning the stage at City Recital Hall into her personal playground of outrage and provocation.    
This event has sold out. 
Peaches' domination over pop culture cannot be understated, with her music "shifting the window for sex in pop" (NPR). Her aesthetic provided the main influence for designer Anthony Vaccarello's AW21 Saint Laurent collection and Fuck The Pain Away was used as a climactic moment in Netflix's Sex Education Season 3. The song was also written into the script for Aisling Bea's comedy series This Way Up, and the clinquant Kick It acted as a supporting character in the soundtrack for Showtime's critically-acclaimed Yellowjackets.  
Iconic feminist, musician, producer, director, and performance artist, Peaches has spent more than two decades pushing boundaries and breaking barriers, dramatically altering the landscape of popular culture as she forged a bold, sexually progressive path that's opened the doors for countless others to follow. Through music, art, film, theatre, television, and books, she has upended stereotypes and embraced taboos, challenging social norms and patriarchal power structures while championing LGBTQIA+ rights and issues of gender and sexual identity with biting wit and fearless originality. 
Running time: Approximately 2.5 hours
Find out more about The Teaches of Peaches. Presented by City Recital Hall.