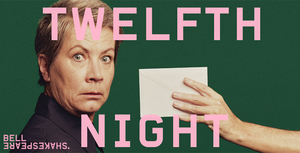 Twelfth Night
Viola is shipwrecked and believes her twin Sebastian lost to the ocean.
This event has passed.
Washed up in a strange new land, determined to survive, Viola disguises herself as a man named Cesario and finds work with Duke Orsino, only to fall head over heels in love with him. But Orsino is in love with Olivia, who – grieving for her brother – refuses all offers of romance. Until, that is, she meets Cesario for the first time. A whirlwind of passion ensues, leaving no one unaffected, not even Olivia's prudish housekeeper Malvolia, played by Jane Montgomery Griffiths (A Midsummer Night's Dream, Titus Andronicus).
Heather Fairbairn's fresh retelling of Shakespeare's romantic comedy is a dark collision of hidden identities and unrequited love. Featuring all-new music by Sarah Blasko, Twelfth Night ultimately asks us to find light in the darkness.
Running time:  2 hours 30 minutes (including 20 minute interval)
Find out more about Twelfth Night. Presented by Bell Shakespeare.