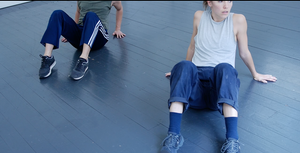 (UP)HOLDING
Dancer and choreographer Tra Mi Dinh brings (UP)Holding to the stage as part of The Flying Nun.
This event has passed. 
A high energy work that has three dancers stuck in a loop - enduring, struggling, and performing their way towards clarity and resolution. In a world of unstoppable motion, our role as viewer is challenged as we witness the ridiculous/unrelenting marathon of life (dance) alongside the dancers.
Cast & Creatives: 
Choreographer/Performer: Tra Mi Dinh
Performers: Emma Riches and Emma Harrison

About the Artists: 
TRA MI DINH is a dancer and choreographer based across Sydney and Melbourne. As a dancer she's worked for artists including Lucy Guerin Inc, Chunky Move, Victoria Chiu, Lee Serle, Michelle Heaven, Isabelle Beauvard and Monica Bill Barnes & Company in works presented at Rising, Dance Massive, AsiaTopa, MEL&NYC, and Melbourne International Arts Festival.
EMMA HARRISON is a performer and maker across a multitude of art forms. Primarily a contemporary dancer and choreographer, Emma's practice encompasses multidisciplinary works merging dance, sung and spoken voice, improvisation, film and theatre. She is a graduate of the West Australian Academy of Performing Arts /LINK Dance Company and holds postgraduate degrees in Media Arts and Production and Primary Education (currently completing).
EMMA RICHES is a Naarm/Melbourne-based artist working in experimental dance. Working as a performer, choreographer and teacher, she is interested in how these roles intersect and inform each other. Emma has presented short choreographic works at Temperance Hall, Dancehouse, The University of Melbourne, Melbourne Fringe Festival and LASALLE College of the Arts (Singapore). 
Find out more about (UP)HOLDING. Presented by Brand X.