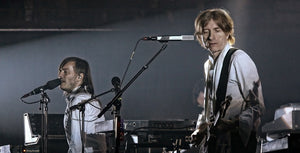 AIR Live
Sydney Opera House: From Our House to Yours
Bringing their stages to your sofa, the Sydney Opera House's new digital program comes to you weekly from their House to yours. Tune in weekly from Thursday to Sunday for archival footage, live broadcasts and premieres.
AIR – Live at Sydney Opera House
The enigmatic French duo, AIR, brought their compelling cosmic grandeur to the Concert Hall in a special performance for Vivid LIVE 2017.
Reviewed as "the best of AIR's subsequent sonic adventures" and an "absorbing exploration into the most artful of sounds" by The Sydney Morning Herald, prepare yourself for a Friday night dance with AIR's international hits including 'Sexy Boy', 'La Femme d'Argent' and many more.
Presented by the Sydney Opera House