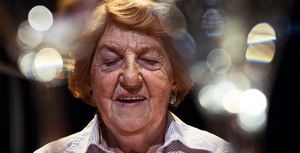 All the Sex I've Ever Had
A group of Sydney's over-65s draw on all their wisdom and experience to share true stories of their romantic and sex lives. 
This event has passed. 
Following a hugely successful Sydney Festival season in 2016, Canada's Mammalian Diving Reflex returns to create the world's first LGBTQIA+ edition of All the Sex I've Ever Had, with elders from Sydney's LGBTQIA+ community.
In this taboo-busting tell-all, the spotlight is at last shone on a part of the population too often rendered invisible, with a show that has touched and tickled audiences all the way from Portland to Prague, Scotland to Singapore. Lovingly crafted by the team behind Haircuts by Children and starring a cast of up-for-it local seniors from our LGBTQIA+ community, All the Sex I've Ever Had is a tender encounter with real people.

"This was one of the best nights of theatre I'd ever seen; where the performers bared their souls onstage, and we were all the better for it." 
-Julian Ramundi, The Brag

"All the Sex I've Ever Had is one of the best works of theatre I've ever experienced. Honest, brave, hilarious - this show makes a home and settles down in your heart." 
-David Collins, Arts Review Melbourne
Running time: 90 minutes (no interval) 
Content warning: This show contains conversations about sex, and may contain references to traumatic events. Parental discretion is advised.
Find out more about All the Sex I've Ever Had. Presented by Darlinghurst Theatre Company as part of Sydney WorldPride 2023.