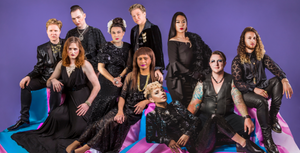 Gender Euphoria: Mighty Real
A rich mosaic of trans lives platforming trans joy, beauty, love, power and euphoria.
This event has passed. 
From the creators of Gender Euphoria, the acclaimed, revolutionary and ecstatic smash-hit of the 2019 Melbourne International Arts Festival, comes a new trans cabaret extravaganza, Gender Euphoria: Mighty Real.

The largest ensemble of trans and gender diverse performers to ever feature on an Australian main stage comes to Sydney WorldPride to flip gender dysphoria on its head. This joyous, binary-exploding celebration will make your heart sing. Goodbye gender dysphoria, hello gender euphoria.
⭐⭐⭐⭐
"In refusing to shy away from emotional honesty and also unashamedly seizing the opportunity to celebrate trans and gender diverse identity, Gender Euphoria creates the kind of depth of feeling you want to last long after the performance fades from memory. It succeeds at making you feel human; in other words, binary thinking be damned."
Daily Review

⭐⭐⭐⭐
"Assembling the largest cast of trans and gender-diverse artists in Australian history, Gender Euphoria is a liberating, joyful and poignant celebration of difference."
The Age
Find out more about Gender Euphoria: Mighty Real. Presented by Darlinghurst Theatre Company as part of Sydney WorldPride 2023.