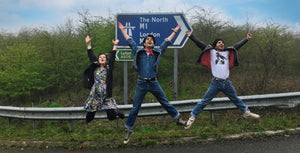 Blinded by the Light
In Bend it Like Beckham director Gurinder Chadha's joyful celebration of Bruce Springsteen's music, discovering The Boss radically changes one British-Pakistani teenager's life.
This event has now passed.
Presented as part of the 2019 Sydney Film Festival
In 1987 Luton, Javed (Viveik Kalra) wants nothing more than to escape the dreary town, its racism and lack of opportunity. Though Javed is drawn to music and writing, his domineering father expects him to pursue a sensible career to bring money into the struggling household. When Javed comes across the music of Springsteen, he finds that the working-class poet speaks directly to his situation and his life – and inspires him to push forward and pursue his dreams. Based on The Guardian journalist Sarfraz Manzoor's memoir, Greetings from Bury Park – and made with Springsteen's blessing and full access to his catalogue (richly represented here with a number of iconic hits) – Blinded by the Light is an uplifting testament to the power of art to change lives.
Running Time: 1 h 54 Minutes
Language: English
Country: UK
Directed by Gurinder Chadha