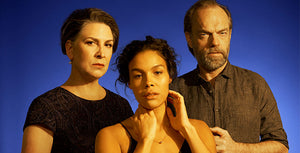 Cat On a Hot Tin Roof
A bold, sexy night of explosive revelations
This event has now passed.
An incomparable cast including Hugo Weaving, Pamela Rabe, Harry Greenwood and Zahra Newman take on this classic directed by STC Artistic Director Kip Williams. Expect a bold, boozy, sexy night of Southern fireworks.
Set on a steamy night in the Mississippi Delta, lies are rife and the family's future is at stake. Big Daddy has built an empire of 12,000 acres, but that won't help him beat cancer. Big Mama is in the dark. Brick, the favourite son, is a golden boy drinking himself into oblivion. But Maggie is alive, desperately alive, and dancing like a cat on a hot tin roof.
By Tennessee Williams
Directed by Kip Williams
Running Time: 3 hrs (including 20 min interval, then later a 5 min pause). Subject to change. More info
The Risky Stuff: Strong language, adult themes, nudity, herbal cigarettes, strobe effect lighting, loud sound effects, theatrical haze and the use of complete theatrical blackouts. Subject to change. More info