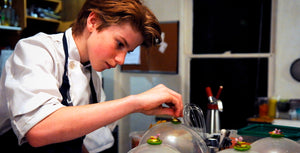 Chef Flynn
What makes a great chef? Follow teenage culinary sensation Flynn McGarry's rapid ascent from the home kitchen to the cover of
 

New York Times Magazine.
This event has now passed.
Bored with his mom's dinners, and inspired by television cooking shows, young Flynn decided to take over the kitchen. At 13, he was serving multiple courses in his front room to friends and family, with his mother providing table service and complex equipment. As his menus became more ambitious and mouth-watering, Flynn ultimately attracted the attention of the media. It's not all smooth sailing, however, as his talent is called into question in an online backlash. His adoring single mother, Meg, obsessively documented her son's passion from childhood. It's this intimate footage that offers a unique insight into the world of a culinary wunderkind, and the challenges he faces as he reaches adulthood.
Yates' film gives viewers every reason to believe the hype built up by glossy media profiles over the years — and lets them feel the sting of an online backlash that would get under the skin of even the most dauntless adolescent. – Guy Lodge, Variety
The Food Network crowd will go nuts for the doc, but beyond the shots of luscious dishes, there's a pretty interesting character study here, as well. – John DeFore, Hollywood Reporter
Running time: 83 minutes
Language: English
Country: USA
Directed by Cameron Yates
Find out more about Sydney Film Festival