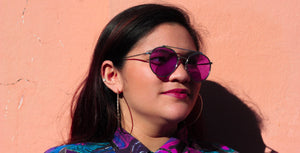 FOMArt: August 2019
Presented by the AGNSW Youth Collective
This event has now passed.
Do you have a fear of missing art? Join us on the last Saturday of the month when the Gallery's Youth Collective presents a kaleidoscope of experiences to engage young people with art and ideas.
FOMArt will feature a range of free events including interviews with art professionals and artists, performances by young musicians, collaborative workshops… and more!
We are also offering discounted tickets to the Archibald Prize for visitors aged 25 or under! Present your ID at the ticketing desk to purchase tickets for only $8 or skip the queue and book online via Qtix.
Bring your friends, meet like-minded art lovers and ignite your imagination and creativity.
Casual chats
This month the Youth Collective present a discussion with Ramesh Mario Nithiyendran, a Sri-lankan born, Sydney based artist making waves in Australia and internationally. They will be chatting to Ramesh about identity, gender and art. Ramesh's works, Transforming into a multi-limbed figure and Multi-limbed self-portrait (after ceramic figures) are both currently on display in the Sulman and Archibald Prizes 2019.
Ramesh Mario Nithiyendran is a contemporary artist who explores politics of sex, the monument, gender and religion. He has exhibited within various contexts, including the 2018 Dhaka Art Summit, Art Basel Hong Kong, The National: New Australian Art 2017 and the 2016 Adelaide Biennial of Australian Art.
DIY for under 25s
Create your own artwork guided by artist Rosie Deacon. Get inspired by the new exhibition, Here we are and some of the most compelling women artists at work today, alongside the Youth Collective and other art enthusiasts.
Rosie Deacon is a Sydney-based artist working in sculpture and installation. Deacon's contemporary, bold and colourful works use a diverse assortment of natural and manufactured materials, combining kitsch, craft and folk-art practices.
This workshop is open to people aged between 15 and 25. All levels and abilities welcome.
Open mic
Clarissa Mei is a 22 year old songwriter and producer, born and raised in Western Sydney, Australia. She began playing gigs in her local community from a young age, her style always sitting predominantly within soul and rnb. Now, Clarissa is excited to continue her own production and new electronic-based sounds.
Clarissa has debuted her new sound at The Plot Festival, Secret Garden Festival and Women in Music Empowerment Day. She has also performed at MCA event GENEXT alongside Kota Banks, Clypso & PRINCI.