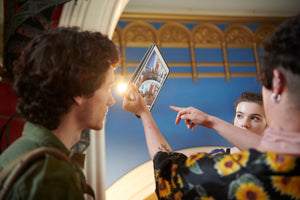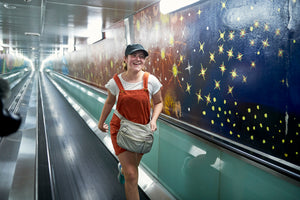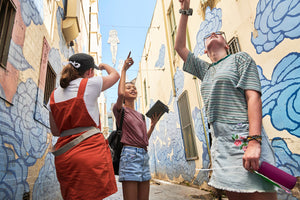 The Playwave Experience at Vivid Sydney
Vivid Sydney 2019 unfolds bringing together light artists, music makers and brilliant minds to share their creativity with you. Join Playwave for an exclusive Experience and go on a massive adventure as we explore the best Vivid Sydney has to offer.
Hear from ABC TV's hit show You Can't Ask That participants about creating connections and communities as part of Vivid Ideas at the Art Gallery of New South Wales before embarking on a  specially designed scavenger hunt featuring arts challenges around some of the most extraordinary installations of the 2019 Vivid Lights Walk. This year, the spectacular Vivid Lights program presents new works projected on the Sydney Opera House, animation design highlighting Australia's native plant life, and creative architectural light projections by Pixar Animation Studios.
Think Amazing Race meets Treasure Hunt meets a totally unique take on Sydney's biggest festival - find clues, perform challenges and search for surprises hidden on the interactive Lights Walk. The winning team will be rewarded with a special Playwave surprise!
I'm sold! How do I sign up? 
Book your tickets (up to 5 per team!) with Playwave and keep an eye on your inbox for detailed instructions. Gather your mates in a team or reserve an individual spot and you'll get the added bonus of meeting some new legends who love to explore as much as you do!
Playwave Experience start: 12 June, 6:00pm at the Art Gallery of New South Wales (exact location emailed to participants ahead of the date)
Scavenger Hunt end: 12 June, 8:30pm on the steps of the Museum of Contemporary Art Australia 
Event end: 12 June, 9:00pm
Concerned about safety during this event?
Playwave works closely with event and venue partners to ensure Playwave Experiences are welcoming and safe environments for Young People. The Vivid Lights walk is staffed with security wardens, and Playwave staff will be present and contactable during the event at all times. Transport from the event can be provided if required.
For any enquiries contact Playwave here. 
Playwave Experiences are made possible by the support of the City of Sydney.
Images:
Vivid Sydney
Austral Floral Ballet - Andrew Thomas Huang
Playwave Experiences